August 5, 2017 Shakespeare by the Sea
The Taming of The Shrew

Showtime 7pm

Show runs about 2 hours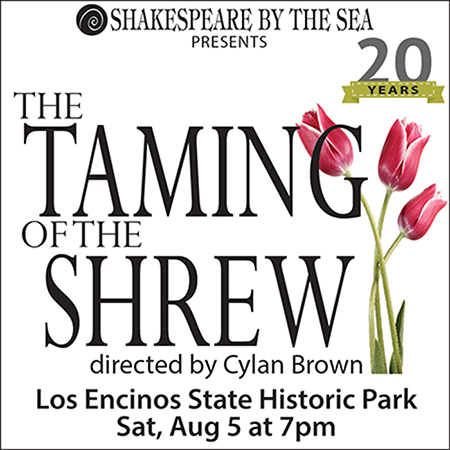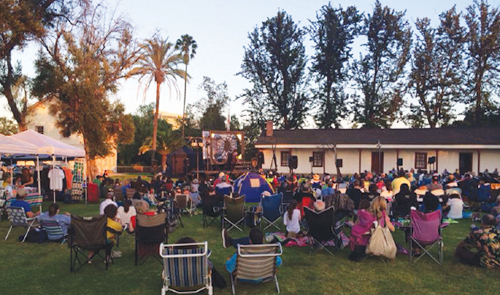 Free admission. Pack a picnic, bring a blanket, a beach chair, and your friends and family for a classic performance under the stars.

The Los Encinos Docent Association hosts Shakespeare by the Sea for Shakespeare's comedy

The Taming of The Shrew

. When rebellious Katherina stands in the way of her younger sister Bianca's marriage, fortune hunter Petruchio is enlisted to "tame" the elder daughter, freeing a path for Bianca's motley suitors. From their first meeting, sparks fly and the ultimate battle of the sexes ensues – leaving us to wonder, who is taming who?


---
This event sponsored in part by:
~ Mike the Printer
~ Gelson's
~ Tapia Bros

Donations are appreciated.

Additional information available at: www.LosEncinos.org

The Los Encinos Docent Association welcomes new sponsors:
JBL Professional by Harman, and Bitsy's Brainfood and thanks ongoing sponsors
- California Pizza Kitchen
- California State Parks Foundation
- Encino Neighborhood Council
- Gelson's
- Lakeside Café
- Keller Williams Encino-Sherman Oaks
- Mike the Printer
- Rumack & Harmer Pediatric Dentistry
- Viktor Bene's Continental Bakery
for their on-going support.

Want to join in?

Please visit the Los Encinos Docent Association web site for details,
additional information and updates:
www.LosEncinos.org

Park hours -- Sunday - Wednesday 10:00 AM - 5:00 PM.

-----------------------------



The Los Encinos Docent Association is an all-volunteer 501(c)(3) non-profit cooperation, also recognized as tax exempt by the State of California Franchise Tax Board, and is dedicated to the education about and preservation of Los Encinos State Historic Park in Encino.